Ukrainian children saved from the Russian 'vacation' trap
"At that moment, I regretted so very much what I did."
Kyiv, UKRAINE -- Russian authorities, according to the Ukrainian government and human rights groups, are reportedly forcing the illegal adoption of Ukrainian children under the guise of sending them on 'vacation." But while some parents barely escape the trap, others have, miraculously, been able to reunite with their kids after weeks of separation, ABC News has learned.
Svitlana was a happy mother of her 10 adopted children living in the Kharkiv region near the Ukrainian-Russian border. But their lives changed in the blink of an eye when Russia invaded Ukraine in Feb. 2022.
"Our village was the first to witness the Russian soldiers and vehicles. Explosions, fire, bombing … it was hell on earth," she recalled.
The bombardment and terror lasted for weeks.
"We slept together in the kitchen with the bombs exploding incessantly," Svitlana told ABC News. "At the same time, we were afraid to walk around the village because the Russians were angry and we didn't know what to expect from them."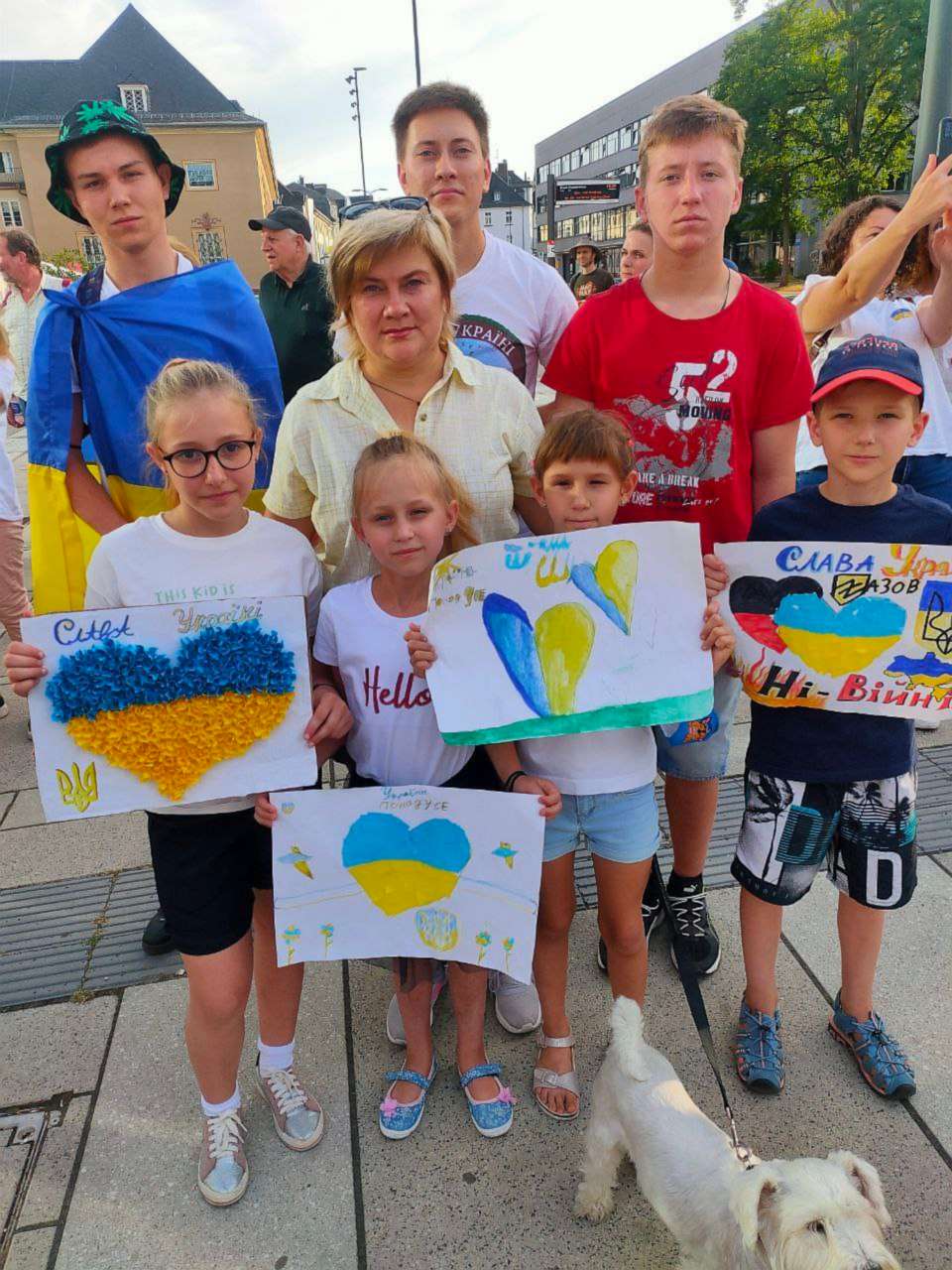 But one of the scariest moments she can recall was when she was approached by a Russian officer. He attempted to convince her that she should send her kids to Russia, allegedly for a vacation.
"Imagine your kids being wounded, lying on the ground bleeding. 'You don't want that,' he told me," said Svitlana. "He was apparently pressuring me and sounded threatening. I almost started considering such an option."
Fortunately, the woman abandoned the idea before barely managing to evacuate with her family to Latvia through Russia. Other parents told ABC News, however, that they were not so lucky -- with some being separated from their children for weeks when they were unable to escape the Russian occupation.
Iryna Smelkova and Natalia Ternovskaya live in Izium and Kupyansk, respectively -- two places in the Kharkiv region that were heavily shelled.
"In our house, a wall crashed. We were spending hours in a basement. I can't even tell you how it feels like when a bomb falls in your street," Natalia said through tears. "Of course, as a mother, I wanted my daughter to be safe."
Both Natalia and Iryna told ABC News that they heard an advertisement on Russian radio that was broadcast in the occupied area that offered children a "vacation" in a camp in Gelendzhik in southern Russia. They voluntarily sent their daughters there in late August.
The women said that nobody pressured them to do this and the children were escorted by local teachers whom the parents knew personally. They also said that they saw other children going there and returning "suntanned and happy."
But it didn't turn out like that for either Natalia or Iryna.
What was intended to be a three-week vacation turned into a weeks-long separation from their children -- along with a lot of fear and uncertainty.
When the Kharkiv region was liberated by the Ukrainian forces in early September, the mothers realized it would be very difficult for them to get their children back when the teachers they left with were classified as collaborators by the Ukrainian authorities.
"At that moment, I regretted so very much what I did," Iryna confessed. The mothers said they had no idea what to do.
Things changed, however, when they met volunteers from Save Ukraine, an NGO run by Ukraine's former children's ombudsman, Mykola Kuleba.
"We understood that we have to do our best to return these children because we feared they might be illegally adopted too," said Kuleba.
It took several days in a car -- a journey that would lead them through four countries -- for the mothers to finally be reunited with their kids. The children told ABC News that they were treated well in the camp and it was like a typical vacation trip with different kinds of entertainment for them during their stay. But the children were also told by teachers that they couldn't return home "because the roads were unsafe."
Kuleba didn't fully disclose the whole procedure of negotiations but did say that they rely only on themselves and "the sanity of the people on the Russian side."
According to Aksana Filipishina, a representative of the Ukrainian Helsinki Human Rights Union, "vacation" or "salvation" trips are actually guises Russia has used previously to force the illegal adoption of Ukrainian children since the war broke out in Feb. 2022.
In his annual New Year's speech, Russian President Vladimir Putin confirmed that Russia is using a variety of social schemes to justify the transfer of Ukrainian children to Russia and thanked Russians for their efforts to help children from the occupied Ukrainian territory with these "holidays."
Filipishina says that it is nothing more than a trap for parents who lost their jobs and have been living in extremely difficult situations in areas highly conflicted areas of fighting. Although many parents do send their kids voluntarily, Ukraine still considers such cases a kidnapping.
"These kids had to be returned in the same way they were taken, that is with the same teachers. It never happens" Filipishina explained. "The Russian side puts a condition -- if you want to see your kids, come to us. This is unseen cynicism."
ABC News has discovered that other children have managed to return to Ukraine from the same camp in Gelendzhik -- all thanks to the help of volunteers in Russia, a network of drivers and people who help with financial aid.
It is unclear, ultimately, how many children have been sent from Ukraine to these camps in Russia but diplomats from the United Kingdom and United States estimate the number could be as high as 300,000.
To date, Ukrainian authorities have identified almost 14,000 children who have been sent over to Russia with only 125 that have actually returned, with each case requiring extensive efforts from different governmental bodies, the Ukrainian ombudsman's office told ABC News.
According to Russian data, however, only around 400 children have been adopted by Russian families, with many of the children between the ages of five and six-years-old and unlikely to ever be fully aware of what has happened to them.