Sen. James Lankford on Sunday previewed what he would like to see when President Joe Biden meets with Speaker Kevin McCarthy and other congressional leaders on Tuesday to talk about the looming debt ceiling crisis.
"I would hope that they would all sit down and be able to talk about, 'OK, what are the parameters? Where are we?'" Lankford, R-Okla., told ABC "This Week" anchor George Stephanopoulos.
"We have $31 trillion in debt. That's happening as a nation. It's continuing to accelerate," Lankford said." We're continuing to see high inflation. We have all the risks of a recession that's out there based on what's happening on government spending and such."
Lankford continued: "I would hope they would sit down [on Tuesday] and say: 'What are the areas that we do have common ground on? What are the areas that we can actually begin to reduce spending?'"
He echoed other Republicans who feel that debt and spending negotiations should have started months ago. Biden and McCarthy last met on the issue in February.
"That's been the most stunning part about this is: Everyone knew it was coming. It's time to be able to negotiate it," Lankford said.
On Saturday, 43 GOP senators, including Lankford, sent a letter to Majority Leader Chuck Schumer saying they won't back a debt limit increase without "substantive spending and budget reforms."
That position is at odds with congressional Democrats and the White House who say the nation's borrowing limit must be raised without preconditions, as it sometimes has in the past.
"I don't find a single American, whether they're around government or not around government, that says, 'The federal government spends every dollar perfectly; there's nowhere in federal spending we can cut; everything's very efficient,'" Lankford said Sunday.
"Everyone knows that there's areas of waste in government," he said.
Stephanopoulos pressed Lankford on where the GOP would like to see specific spending cuts, given that a recent House proposal they passed remains vague beyond reducing funding for federal agencies to 2022 fiscal year levels and limiting growth in government spending to 1% per year.
"The House bill that they put out was their first parameter," Lankford responded. "It is the beginning of a negotiation to say the House is well prepared and has been prepared to be able to negotiate this."
Last week, Treasury Secretary Janet Yellen warned in a letter to lawmakers that the country could run out of money to pay all of its bills as soon as June 1, unless the debt ceiling is raised by Congress.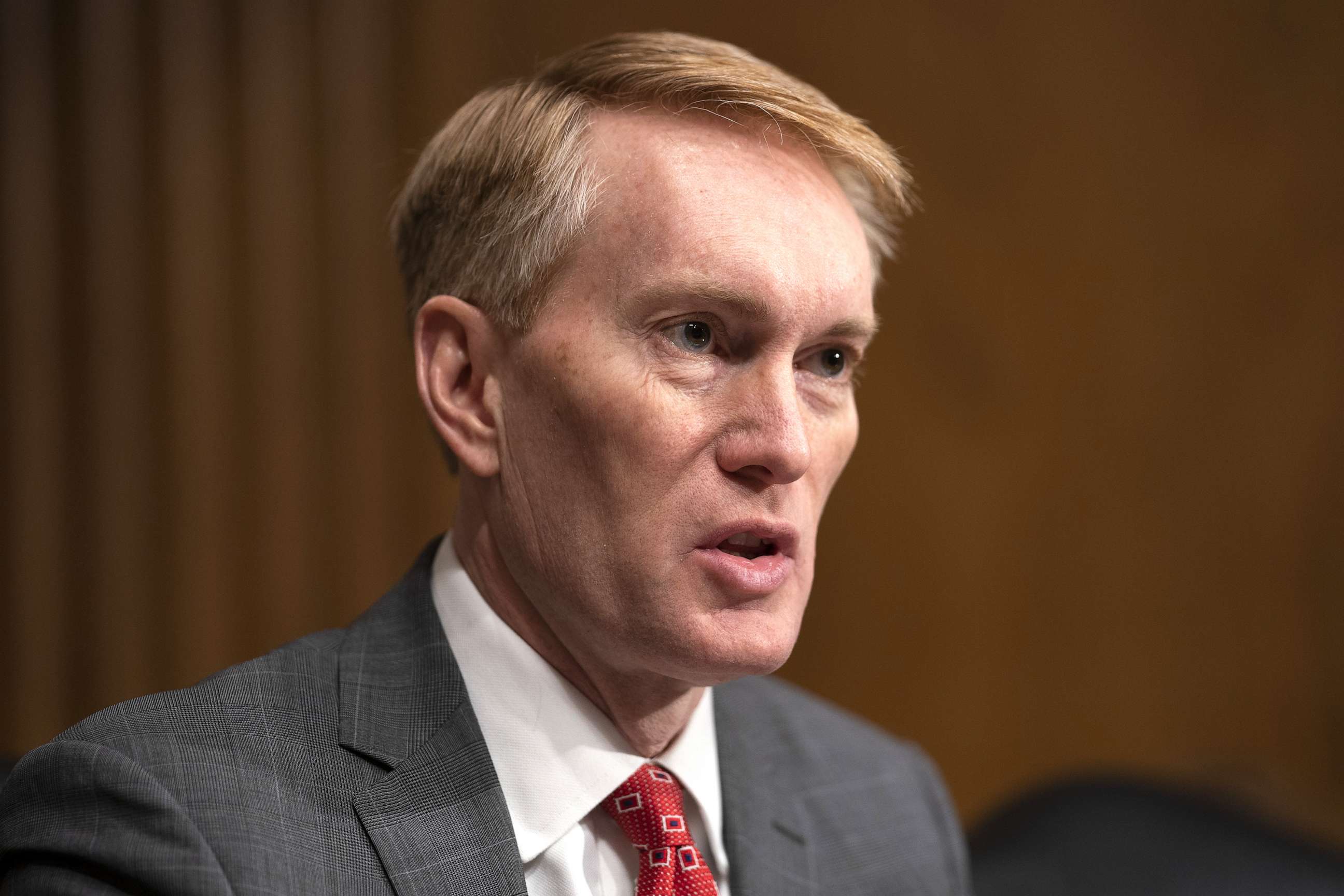 Lankford on Sunday laid the blame with Biden, whom he maintained was slow-walking negotiations with Republicans.
The president has repeatedly said the debt must be dealt with separate from a compromise on spending.
"I know he wants to set up a process in which spending priorities and levels are discussed and negotiated," Yellen said on Sunday, in a separate "This Week" appearance. "But these negotiations should not take place with a gun, really, to the head of the American people."
Lankford cast the unique arrangement in the U.S. as a way to enforce fiscal responsibility, though critics of the debt ceiling says it can manufacture economic crises.
"We're the only one that has a debt limit like this one. The reason we have it is because it forces a moment to be able to talk about debt and deficit and to say, 'Where are we going on this?'" Lankford said.
He also pushed back on criticism that only conservatives use the debt ceiling to enact budget and spending changes -- and he singled out past votes to that effect by then-Sen. Biden.
"These are not moments where there's this, quote-unquote, always 'clean' [limit increase] unless Republicans are negotiating," Lankford said.
Yellen warned in her interview that "financial and economic chaos would ensue" if lawmakers fail to act, noting a bipartisan history of raising the debt ceiling.
"It simply is unacceptable for Congress to threaten economic calamity for American households in the global financial system as the cost of raising the debt ceiling and getting agreement on budget priorities," Yellen said.
"We've always paid our bills," Lankford said in his interview, challenging the "calamity" label. "But Democrats and Republicans have both used this moment to be able to look at it and say, 'Let's talk about where we're going, what's the direction, what's the future?'"
Lankford was also asked about a political issue: the 2024 Republican primary race. An ABC News/Washington Post poll released on Sunday shows Trump leading Biden in the race for the White House.
"I've not endorsed anyone in this race and not going to for quite a while, if I do it all. I didn't in 2016, either. So I'll stay out of this, as we've got an open seat at this point," Lankford said. "Clearly, President Trump is leading in all the polls on it. But it's still early. There are several folks that are unannounced that may announce in the next couple of months."