With a potential debt default just six days away, House Speaker Kevin McCarthy arrived at the Capitol Friday telling reporters he remained optimistic despite no deal in hand.
McCarthy said negotiators "made progress" overnight but wouldn't get into specifics of the framework being discussed.
"And I'm gonna work as hard as we can to try to get this done, get more progress today and finish the job," the speaker told reporters. "I'm a total optimist."
But when asked if they could reach a deal today, McCarthy's demurred.
"Look, I'm gonna work as hard as I can. As soon as we get a deal, we're gonna get a deal but it has to be worthy of the American people," he said.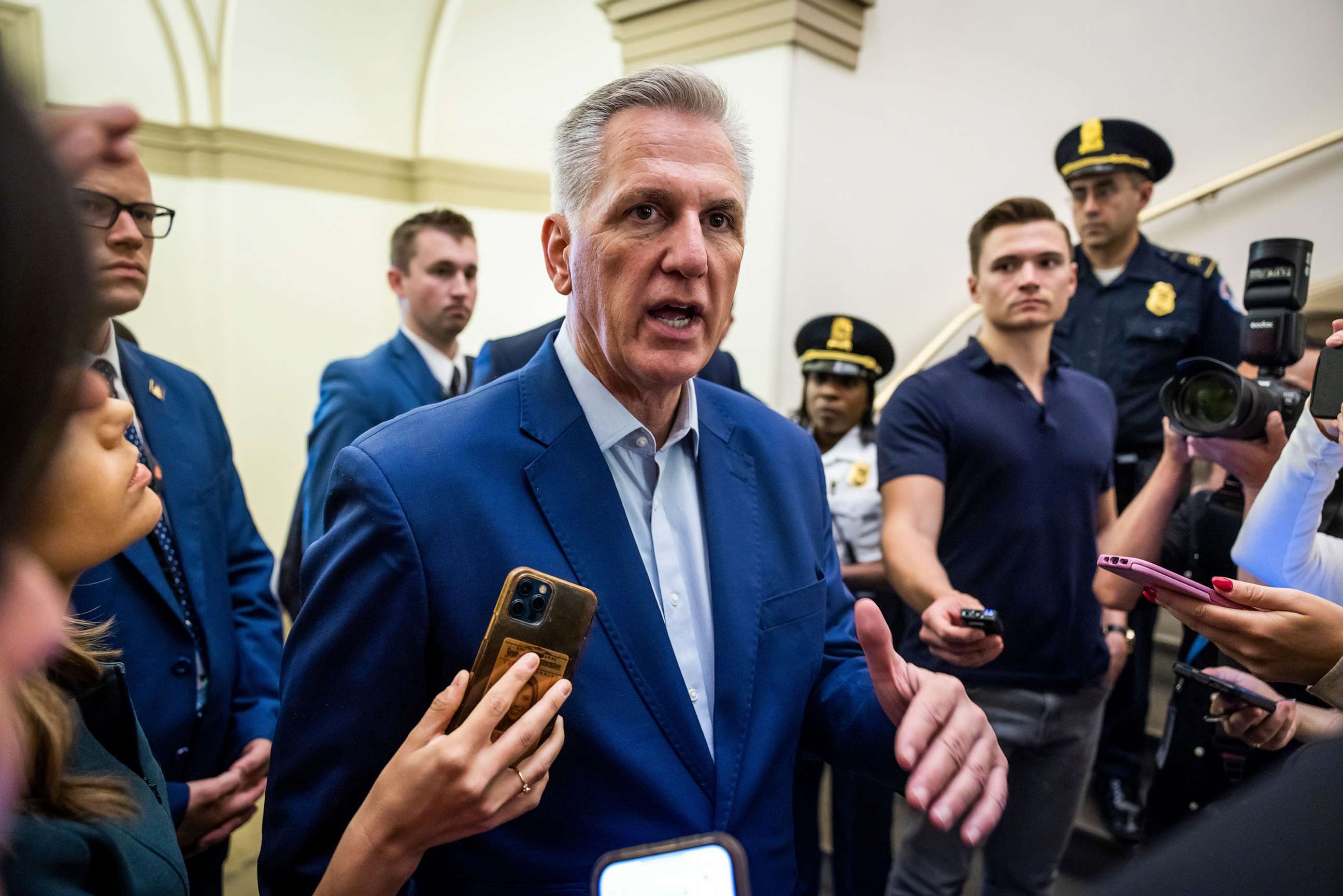 President Joe Biden, too, said progress was being made on Thursday.
"I've made it clear time and again: Defaulting on our national debt is not an option," Biden said. He added the negotiations with McCarthy are "about the outlines of what the budget will look like, not about default. It's about competing visions for America."
Though once an agreement is reached, significant legislative hurdles remain in getting it passed before June 1 -- the date Treasury Secretary Janet Yellen maintains the U.S. could start to run out of cash to pay all its bills.
McCarthy is pledging to give House members 72 hours to review the bill before bringing it to the floor for a vote. If it passes, it will go the Senate, where it would take just one lawmaker to delay approval for up to a week.
Also at issue is potential opposition from the wings of both parties. Several progressive Democrats have expressed frustration too much ground may be conceded to Republicans, whole conservative hardliners with the House Freedom Caucus are encouraging McCarthy to "hold the line" on their spending demands.
McCarthy on Friday appeared to defend the negotiations against growing dissatisfaction from the far right of his party.
"You're talking to people who don't know what's in the deal," he said when asked about the House Freedom Caucus members urging him to stop negotiations altogether.
"So I'm not concerned about anybody making any comments right now about what they think is in or not in. Whenever we come to an agreement, we'll make sure we will first brief our entire conference," he added.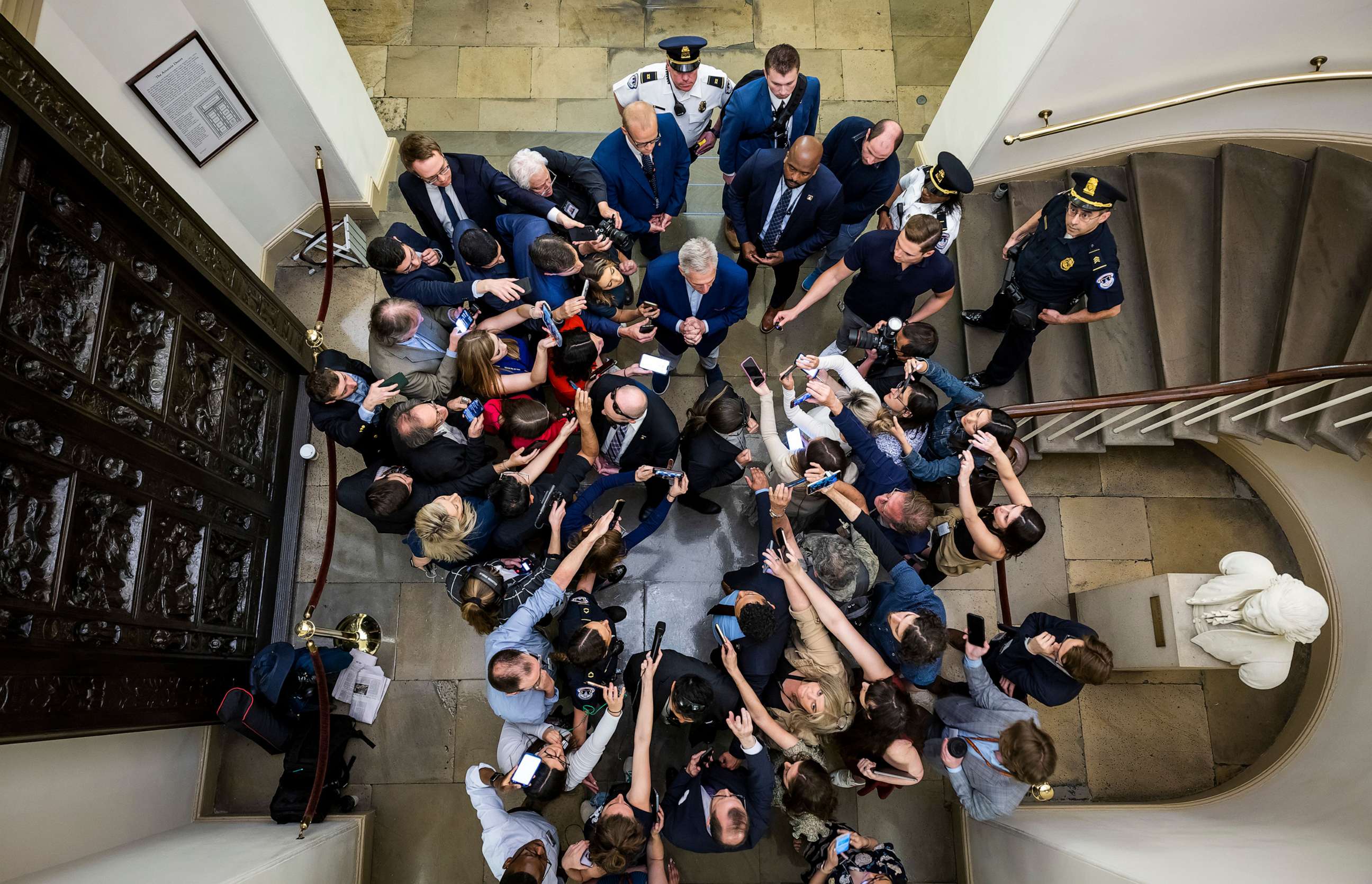 ABC News Senior Congressional Correspondent Rachel Scott has reported negotiators are eyeing a possible deal to raise the debt limit through 2024, increase defense spending and veteran spending for two years while also clawing back unspent COVID-19 funds.
Top Republican negotiator Rep. Garret Graves of Louisiana said Friday work requirements was a key sticking point.
Graves left McCarthy's office Friday afternoon telling reporters "we're still not there" on a debt limit deal, though he said a deal over the weekend remains "possible."
Chief among the hang-ups that Graves outlined are work requirements for some federal programs. Republicans have repeatedly insisted that any deal include work requirements for able-bodied individuals ages 18 to 55 with no dependents.
"Democrats right now are willing to default on the debt so they can continue making welfare payments for people who are refusing to work," Graves said. "I mean if you're really going to fall on the sword for that versus actually negotiating something that changes the trajectory of the country for spending, I mean that is crazy to me that we are even having that debate."
Asked if Republicans might consider removing work requirements: "Hell no. Hell no," Graves said. "Not a chance."
The parties are "still talking" about permitting reform as well, he said.
Graves described Friday morning's discussions with White House negotiators as "candid."
"There is no question there are outstanding issues we are not there, but I think we really identified where the biggest differences are," Graves said. "We have made progress. I said 2 days ago we had some progress that was made on some key issues, but I want to be clear we continue to have major issues that we have not bridged the gap on yet."